I try to "like" horsey companies on Facebook for several reasons:
a) I am curious and enjoy keeping up with what new products are coming out
b) I am slightly addicted to Facebook and spend way too much time on it
c) Sometimes the companies post fun contests that I can enter
A while back I liked FITS' profile (
click here to see it
). The more I found out about the company, the more I liked it. As a bonus, their products are AWESOME and though I couldn't afford to buy any of them, I drooled over the breeches in catalogs and spent time stroking the deerskin patches when I saw them in tack stores. I'm weird, I know.
Fast forward to us preparing to head to Rolex. FITS posted something on their wall about going mechanical bull riding. I had never been before but I figured that I had enough experience sitting Lucy's nonsense that I might have a stab at being a successful fake bull-rider. Plus, even if I fell off in the first five seconds, I'd have a nice soft landing on an inflated mat, which would be much easier to take than a face full of dirt.
Saturday night at Rolex arrived and my traveling companion Claire and I were ready to rumble. We made our way to the Electric Cowboy in Lexington and were greeted by a larger than life sexy blonde cowgirl. It was almost like she was saying, "Bring it.":
Oh boy, we were so excited.
We went inside, met the FITS crew (who are AWESOME, btw), and got fitted into breeches, which we promptly strutted our stuff in.
Before we could ride the bull, we had to sign our lives away. There was a lot of text but basically it said, "the undersigned will not sue us even if he/she dies". Please note the sequined tank top: I am now known as "Sparkles" amongst the FITS crew and I dig it.
I made friends with the bull.
And then I rode!! The first time I stuck it for 80 seconds and the second time was a bit longer! It was a BLAST!
Claire even took some video:


It is WAY harder than it looks but thanks to the full seat patches, I hung on pretty well ;)

The best part was that we WON a pair of the breeches! I was SO EXCITED. I never win anything and these breeches are beautiful. So yesterday I went to ride and of course I wore my new breeches: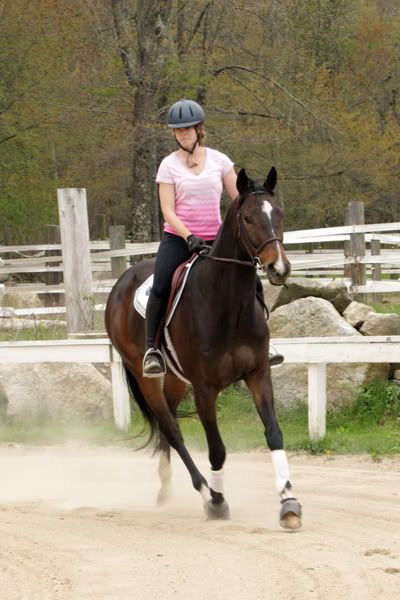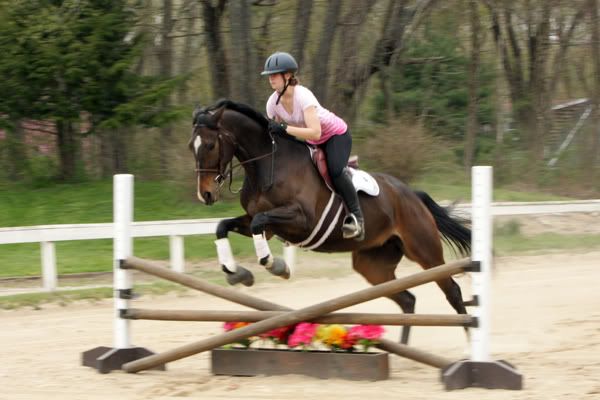 I love the breeches so much. Lulu even was a bit naughty so I could test out the true grip of the deerskin, and trust me: they are GRIPPY.

So for anyone who has drooled over these breeches, seriously, buy a pair. You will not regret it. I am so happy I have some now!