So here it is, the Spring Cleaning Contest!
win me!
I am a huge fan of Absorbine; in fact, yesterday at the barn I surveyed my grooming supplies, fly sprays, and liniments and without meaning to, I had amassed a whole lot of Absorbine products. I like their products because they work, aren't insanely expensive, and best of all I am supporting an American company.
One thing I hadn't used until recently was the Stain Remover and Whitener, which is kind of funny because my heart horse, a grey Connemara (Dreamer, for anyone who remembers the Freedom Farm fiasco of last January) had one mission in life: be any colour other than grey. I sure could have used this stuff when I was riding him! I can remember many early show mornings when I got to the barn after scrubbing him within an inch of his life the night before, and covering as much of his little pony body as I could before going home, only to get there at 5am and find him absolutely covered in stains. Oooooh I would get so mad!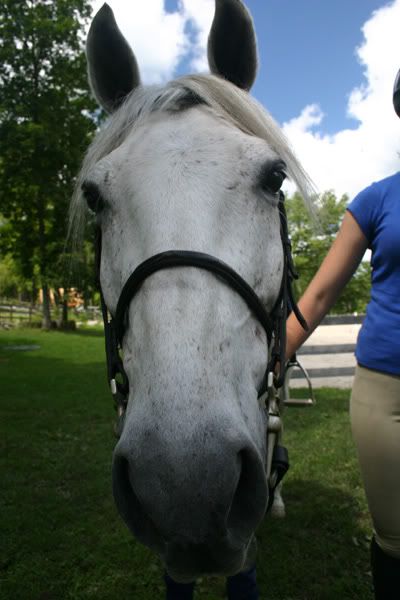 ok, not really *that* mad...I mean, look at his little pony face. SO CUTE.
Outside, he was even worse. His paddock had a bunch of berry bushes in the back corner and he would routinely come in from turnout with purple splotches all over the place.
When I was horse shopping, I decided to limit my horse search to dark coloured horses, and Lucy entered the picture. Dark bay, some white on her legs but not a lot, and I was like, ok I can handle this! She stays pretty clean for the most part but occasionally will get some stains on her white socks. I tested the Stain Remover and Whitener out on her yesterday and it worked so well to get those pesky stains out, without having to give her a full bath.
So I have five 20oz bottles of Absorbine Stain Remover and Whitener to give away, courtesy of Absorbine, and to enter, simply comment on this blog post and tell me a story about when a horse chose a really inopportune time to get dirty, like before a show or when a potential buyer was coming to look at him. If you don't have a good story like that, tell me why you'd love to try the Stain Remover and Whitener. The five winners will be chosen randomly on Thursday 4/4 at 5pm EST.
Good luck!